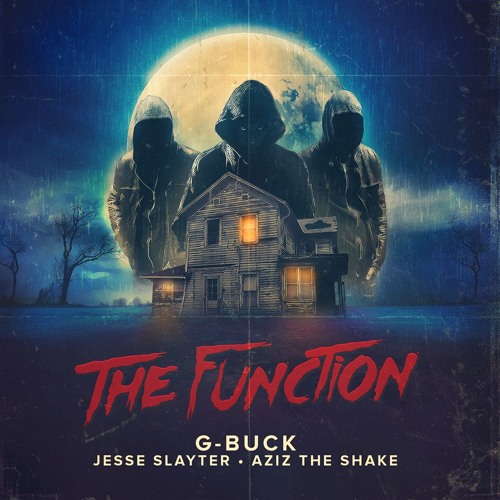 Although we're on the opposite side of the calendar of Halloween, the latest from
G-Buck
screams haunted house party. "
The Function
," with help from
Jesse Slayter
and
Aziz The Shake
, emits a dark shadow from the speakers, as ominous as a death rattle. Picture the three hooded figures in the basement of your childhood nightmares performing part satanic ritual, part monster mash. It's like an evil, electro rock band. And for me that's the best part, imagining these three going ham, bringing about utter madness and malevolence from the wretched revelers.
G-Buck
bangs away at the drums and bass, filling the space with sheer sinfulness, while
Jesse Slayter
lives up to his name slaying the guitar. But the most important bit is Aziz summoning spirits with his fearsome flow. Like his line "I'm LeBron James, you could try and stop this," you'll find that it's nearly impossible to stop the king, or the craft of this killer trio. Stream the sinister creation that is "
The Function
" and follow its hosts below.
FOLLOW G-BUCK: FACEBOOK SOUNDCLOUD TWITTER
FOLLOW JESSE SLAYTER: FACEBOOK SOUNDCLOUD TWITTER
FOLLOW AZIZ THE SHAKE: FACEBOOK SOUNDCLOUD TWITTER