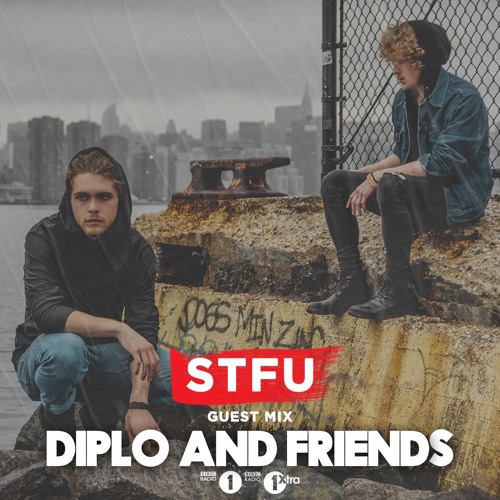 I've been supporting Zak and Alex (aka
STFU
) both on this blog and on
Bump In The Hump
, and while a play on my radio show is something, it does not compare to getting a guest mix on Diplo and Friends. The dynamic duo have just uploaded their April mix to their soundcloud for streaming anytime. It's no wonder
Get Right Records
(who
STFU
's "
Find That Girl
" was released under) reposted and led me to the mix, because
STFU
is delivering some of the most twerk worthy music available at the moment. Of course
Get Right Records
is headed by
Benzi
, who is half of
TWRK
, and if you're like me, you've been waiting for another one of their incredible, exclusive-laden mixes,
STFU
have filled that void.
According to
1001 Tracklists
, they've filled their hour slot with a mind-blowing 54 tracks. This shows off not just their incredible taste, with tracks ranging from
Boombox Cartel
to
Bruno Mars
, but to jam all that action in that span shows serious skill in mixing. While we could be satisfied to stare in awe of the above, the best part of this mix is the insight into all of the productions Zak and Alex currently have in their collection. An astounding 31/54 tracks are credited to
STFU
. Whether it's one of their killer crafted mashups, exclusive remixes, forthcoming originals or even their cover of "Closer," there's no doubt this is their coming out party.
Soon enough you won't be able to go to any club or listen to any mix without having
STFU
slap you in the face. I for one know I'll be coming back to this mix with frequency, at least until more of their originals are released, but even after to bask in their brilliant and blazing fast mixing skills.
FOLLOW STFU: FACEBOOK SOUNDCLOUD TWITTER