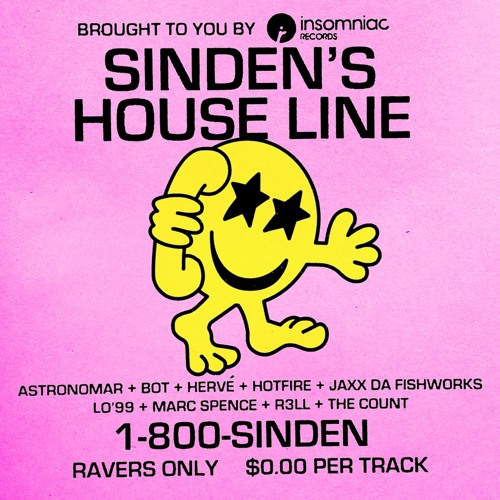 Very few producers can boast the same kind of quality and longevity as Graeme Sinden. He's been a staple of the house scene since collaborating with the likes of
Hervé
(as
The Count and Sinden
) and
SBTRKT
nearly a decade ago. He's once again teamed up with
Hervé
, among other heavy hitters
Bot
(previously half of
Crookers
), Japan's
Jaxx Da Fishworks
and Alaska's
Astronomar
. The nine track collab laden EP, out now on
Insomniac Records
, brings bassy house tracks that, while having killer classic feels, succeeds in pushing the undeniably important genre forward. Download the EP free via ToneDen,
here
.The lead track brings
Sinden
and
Hervé
together again, showing off their incredible interplay. The amount of movement and instrumentation is incredible, once again proving these two work together wonderfully. Next, pay special attention to
Sinden
's solo track "
Baby
" with its classic bonking bass sound built around a grungy atmosphere. The next three tracks, all remixes, take a decisively different approach, but still one that fits into this formidable EP.
R3LL
's remix relies on a piano lick and pulsating jersey club loops, definitely the most intense and energetic of the bunch.
Bot
brings back the bouncing bass with "
Follow Me
." The bed he's crafted for
Aly Us
' vocals makes it absolutely alluring and almost hypnotizing. It's easy to imagine several shufflers dancing all night to this one.
Next up is
LO'99
, who I've been a fan of ever since I heard
Porter Robinson
play
Go Freek
's remix of "
My Mind
" in his
Monstercat Showcase set
two summers ago. He's been on fire as of late (dropping remixes of
Angelz
and
Stormzy
), and continues that trend with his
420 Blog It
take on "
Mega
." Obviously the throwback feels are strong, but the deep bass wobbles and alien atmosphere make it a worthy remix of such a classic track.
Following those remixes come three new collaborations. First "
Cold Ass Flute
" with
Astronomar
. It's eerie as can be, sending chills down your back, again with an extraterrestrial vibe and an all too evil laugh. Next is
Hotfire
and "
Twiddle
," which winds up slowly before the tension becomes too much and it turns into an all out stomper, suggesting that listeners just get stupid. The final collab comes with
Marc Spence
, whose "
Nasty
" has been mentioned many a time on this blog. "
WTF
" is mechanized madness. It's almost as though the two have built an
Iron Giant
type figure deep in the woods, and its coming to life can be heard through the panicked chirping of birds and earth shaking bass.
Sinden's House Line
then wraps up with a new
Jaxx Da Fishworks
production, "
Don't Wait Up
." It may be the best track to encapsulate the EP as a whole. It's got a great classic feel and construction to it, while still feeling fresh. The frenzied drop is like a steely stare down, daring you to dance. From
Sinden
and
Hervé
's "
Body & Soul
" to this fire finale, this EP is an excellent example of
Sinden
's impact on house music. If you've got the time, I highly suggest taking a scroll through his soundcloud page, it's absolutely littered with awesome tracks.
FOLLOW SINDEN: FACEBOOK SOUNDCLOUD TWITTER