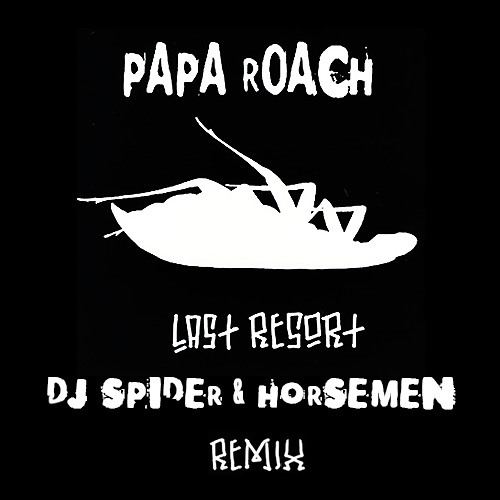 There aren't many tracks as iconic, or meme friendly for that matter, as Papa Roach's 2000 hit "
Last Resort
." Today, LA based producers,
DJ Spider
and
Horsemen
teamed up to give it what they've dubbed an "EmoTwerk" remix. Both have extensive remixing experience that can be clearly felt throughout this new version. Right from the start, the iconic riffs of Roach take us back to Y2K, but they aren't just cut and paste, their bolstered with twerk synths designs. Somewhat surprisingly the nu- and rap-metal vibes of the original work tremendously well with the newly infused twerk stylings, although this isn't the first time that connection has been noted.
Just last week
Max Mertens
of
Thump
authored a feature called "
How Today's Club Music is Influenced by Alt-Rock and Nu-Metal
." In the article he posits that "it's all about the dopamine rush of hearing familiar songs in a new context," and I agree that this is the crux of our enjoyment of these re-purposed tracks of yore. There has to be some leveragable nostalgia, but it's also got to be repackaged in a gripping or challenging way. And it is my assertion that
DJ Spider
and
Horsemen
have done just that.
The original remains intact enough, but as I said above, it's amplified and rebuilt in their particular twerk style. However they've not just followed a cookie cutter pattern, nor inserted a simple twerk drop. It's the way they take on Jacoby Shaddix's vocals and the main guitar riff in the diverse drops that makes this such a successful remix. I full expect it to garner jaw-dropping and all around ecstasy inducing reactions when it gets dropped in club sets. It's incredibly well thought out and put together, and just the kind of remix I can get behind, especially since I rinsed out this track as a young teenager in Muskoka. Get your copy of the remix free from ToneDen,
here
.
FOLLOW DJ SPIDER: FACEBOOK SOUNDCLOUD TWITTER
FOLLOW HORSEMEN: FACEBOOK SOUNDCLOUD TWITTER