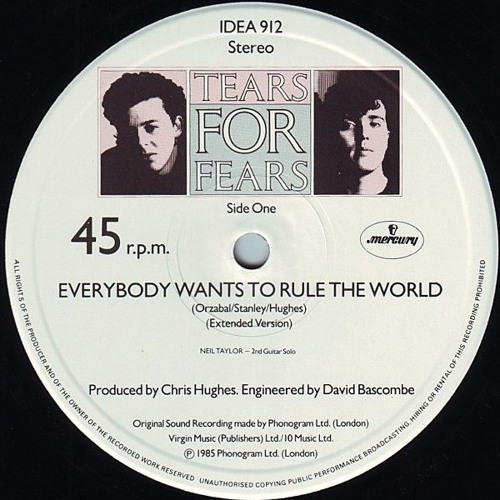 This morning I had the urge to find myself some more epic disco edits, so I set out on soundcloud digging endlessly through future bass, and hybrid dubstep/trap tracks. It felt nearly impossible, even using the chart function to search, there was almost nothing except full mixes. Then I found a remix of Loleatta Holloway's "
Love Sensation
" by London producer
Pied Piper
. It's a massive 10 minute, vox led, version of the classic disco number, and boy is it full of fun. I then looked further at
Pied Piper
's account and found exactly what I was looking for, among endless disco edits, this remix of Tears For Fears. What makes this, and all of
Pied Piper
's mixes so sensational, is his omniscient approach in crafting a well rounded, epic creation (it's important to note that I mean to use epic as a noun and not an adjective). The groove of the "
EWTRTW
" mix starts right away with samples lifted directly from the original. Anyone that's heard the Tears For Fears version will immediately recognize the trademark drum sounds.
Pied Piper
's rebuilt the foundation, slowly adding in elements, as though sprinkling spices into a special sauce. That combination of elements have a savoury taste, warming the soul with sublime groove. As a sucker for both disco edits and 80s, this one really hits the spot, as do many of the others on
Pied Piper
's page - well worth a look and listen. Grab the free download via Hypeddit
here
.
FOLLOW PIED PIPER: FACEBOOK SOUNDCLOUD TWITTER