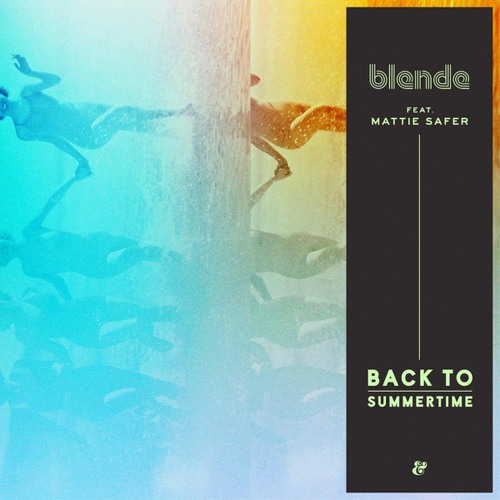 London's Johan Blende, otherwise known as
blende
, nails the mood of the moment with his track "
Back To Summertime
." Of course that's what most publications are writing about, proclaiming this or that the song of the summer. I don't want to fall into that trap, so I'll just address it here, then let it rest. I feel more inclined then ever to find warm, bouncy and uplifting music, rather than dark moody bass bangers, and of course "
Back To Summertime
" fulfills that desire, both musically and lyrically.
blende
has built this track around
Mattie Safer
's vocals, getting groovy right from the start. It's a kind of freeing funk, that only requires a mere toe tap but might just lead to being enveloped in ecstasy. I cannot help but think of
Chromeo
, perhaps my favourite purveyors of electro funk. Obviously
blende
's production shares a lot of similarities, especially in regards to the guitar work, but it's the the overwhelming warmth and fun that ties the two together so tightly.
There's a lot of promise in "
Back To Summertime
," both musically and thematically; and I'm certain that between the original and the accompanying remixes (from
Cavego
and
This Soft Machine
),
blende
will be bouncing out my speakers all summer long. Stream and/or download the EP
here
.
FOLLOW BLENDE: FACEBOOK SOUNDCLOUD TWITTER
FOLLOW MATTIE SAFER: FACEBOOK SOUNDCLOUD TWITTER