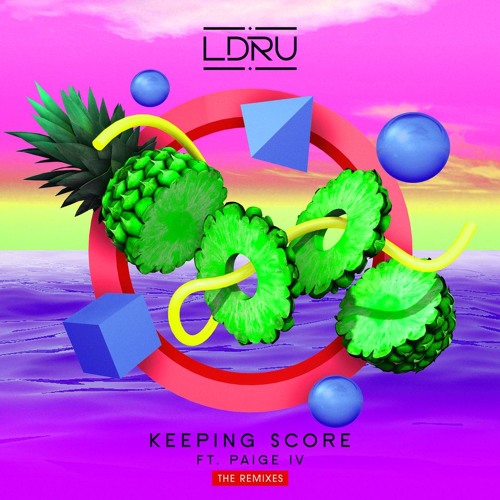 Australian insanity inducer,
L D R U
has been riding the waves of the smash hit collaboration with vocalist
Paige IV
, "
Keeping Score
." And for those of you keeping score at home, it's now logged nearly 700 thousand plays, in just over 6 months, on soundcloud alone. Further leveraging its preponderance, the incredibly infectious track has received six superior remixes from the likes of
Cut Snake
,
Luca Lush
,
The Meeting Tree
,
Terace
,
Oski
, and
Boxinbox & Lionsize
. Hear them all, below. One cannot begin to address the awesomeness and incredible breadth and power of these remixes without paying homage to the incredible original production and absolutely amazing vocals laid down by
Paige IV
. However, the way the six remixers have utilized these phenomenal pieces to create six distinct and undeniably exceptional new versions of "
Keeping Score
," is dizzying.
Cut Snake
was the first to have their remix uploaded to
L D R U
's soundcloud and serves an an excellent introduction to the first class collection of remixes. It succeeds in transforming the original into a rave-worthy, bouncy house classic; unmistakably awesome and uplifting, an extraordinary lead mix.
The following mix, from
Luca Lush
, plays the perfect foil, maintaining its piano power while moving from the rave to the after party. Despite
Luca Lush
's proclivity to produce more intense, fast moving and in your face remixes, this one could easily fly under the radar were it not for its breathtaking beauty. Leaning heavily on Paige's vocals,
Luca Lush
's production lives up to his name providing a plush pillow on which to rest your head.
But you won't be sleeping long, as the remix package roars into the riotous revision from
Boxinbox & Lionsize
. The turnt electro drop smashes behind booming bass drums and stabbing synths. While this mix boasts the most stereotypical EDM stylings, it is incredibly infectious, invoking heart palpitations and the feels of a
Congorock
track of yore.
Next up is
The Meeting Tree
's mix with an abundance of smart sound designed atmosphere and pernicious percussion. Ringing bells and a trap get down give this version the feel of an early
Baauer
production. Guaranteed to get those thots twerking on the floor, I anticipate hearing this mix in some upcoming
TWRK
or
TWONK Team
mixtapes.
The penultimate mix comes from
Terace
, whose version strikes me as the hardest quantify. Seemingly taking elements of multiple genres,
Terace
manipulates and plays with Paige's vocals while subverting any expectations of what the track ought to sound like. The magic of this mix is the driving subwoofing bass that rifles the remix ever forward.
Finally, the mix that drew me to this package in the first place, the inimitable
Oski
. Perhaps best suited to alter the original,
Oski
seems to use the same air as
L D R U
, flipping "
Keeping Score
" in an almost VIP or 2.0 fashion. Whether it's the awesome intro "aw yeah, is that
Oski
?" the awesome
RL Grime
-esque honking drop, the undeniable atmosphere or the genius tuned percussion, everything about
Oski
's mix is an absolute win.
Do not sleep on this remix package. There's something for everyone and quite simply succeeds in creating six new and terrific tracks.
SUPPORT L D R U: FACEBOOK SOUNDCLOUD TWITTER