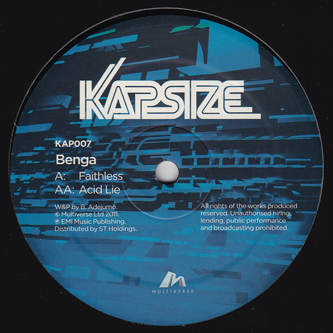 For this week's installment of my
Throwback Thursday series
, it is my pleasure to re-introduce the world to one of the most twisted, raucous, raunchy, ratchet-before-ratchet, heavy stomping bass, acid overloaded tracks I've ever come across.
Benga
's "
Acid Lie
" the B side from his 2011
Faithless EP
.
I first came across this brooding brilliance from
Benga
while listening to
Annie Mac Presents
August 12th. In fact it remains one of my go to radio shows, as it's packed with so much great music, much of it released following the BBC's live shows from Ibiza. Whether it's
Skream
's "
Anticipate
,"
Jack Beats
remix of
Aloe Blacc
's "
Green Lights
,"
David Guetta
's "
Glasgow
," the first play of
Fake Blood
's "
Deep Red
,"
The 2 Bears
"
Take A Look Around
" or the debut of
Knife Party
's
minimix
, Annie Mac brings out all the stops. I've added the full two hour show to my dropbox for your listening and downloading pleasure,
here
. You'll find
Benga
and his "
Acid Lie
" shortly after the 23 minute mark.
Benga
strikes an incredible atmosphere right off the get go - bassline ringing, immediately infecting your pulse with inescapable intensity. The anticipation of the action to come, reaches a fever pitch with
Benga
's finely crafted and well thought out foundation of sound, swirling and climbing ever higher. The acid level rises, swallowing its listeners, melting their flesh like Jesse Pinkman and Walter White's hydrofluoric concoction in the first season of Breaking Bad. The fluid nature and continual movement
Benga
injects into "
Acid Lie
" propels the track forward, leaving no sound unchanged or unaltered. It's his boredom with repetition of the same old, same old, that really makes
Benga
's "
Acid Lie
" such a powerful, progressive and inescapable masterpiece. It embodies the Terminator endlessly chasing you down, forever haunting your dreams like Freddy Krueger.
Benga
has stormed back onto the scene in the last month dropping "
Make Moves
," an uncompromising auditory attack, and just today he's uploaded "
Power
" another track from his upcoming
Future Funk EP
, due to be released February 26. Something tells me
Benga
has big things in store for 2016, so keep your ears and eyes peeled on his movements.
SUPPORT BENGA: FACEBOOK SOUNDCLOUD TWITTER