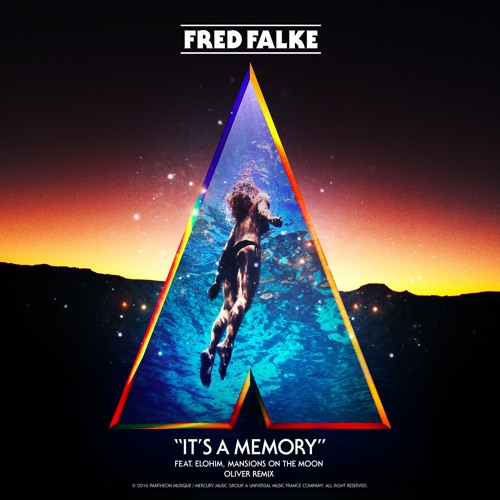 Los Angeles duo, Vaughn Oliver and Oliver Goldstein, aka
Oliver
, have injected their trademark style into
Fred Falke
's latest "
It's A Memory
" leading the six track remix package on Mercury Music.
The lyrics from
Elohim
and
Mansions On The Moon
, bear a striking resemblance to a previous
Fred Falke
release, his collaboration with
The Knocks
, "
Geronimo
." It's the high flying ethereal lyric "Do you want to float into the beautiful sky with me," that so closely mirrors
Geronimo
's "You wanna go to the sky with me." Personally, I think this is a brilliant, slightly tongue-in-cheek, memory testing callback to
Geronimo
, that only longtime fans of
Fred Falke
would recognize. Surprisingly, the original
Geronimo
is more bassline driven than the
Oliver
Memory mix
. This is surprising because
Oliver
have become somewhat synonymous with their own bass heavy productions (see their
To U
,
Electric Love
and
American Girl
remixes, or their
Mechanical EP
).
All of that comparison aside, the duo simply succeed in mimicking the lyrical content of "the road is easy" and "dancing in the ebb and then the flow" taking our hand in theirs, lifting us up, with free floating synths. With fantastic 80s-esque tuning,
Oliver
's remix invokes memories of the music of yesteryear. This soaring, incredibly uplifting and beautiful remix is a breath of funky-fresh air. You'll find it easy to fall in love with this genius, ever changing, ebbing and flowing remix that so wondrously illustrates the lighter side of
Oliver
's production capabilities.
Pre-order
the remix package now and instantly get a copy of both
Oliver
and
Amtrac
's remixes of "
It's A Memory
," before the full release next Friday, the 26th.
SUPPORT FRED FALKE: FACEBOOK SOUNDCLOUD TWITTER
SUPPORT OLIVER: FACEBOOK SOUNDCLOUD TWITTER