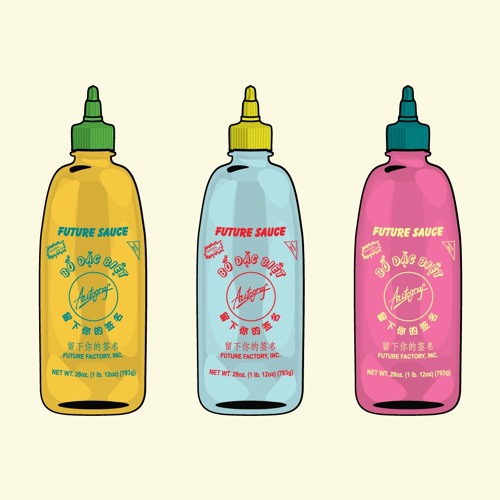 Future funk fabricators
Autograf
have once again jumped ahead in time, designing the delicious and delectable track, "
Future Sauce
." Like the Sriracha bottles in the art, I fully expect
Autograf
's latest to be doused on everything, with its fresh and exciting flavour. The Chicago based trio, truly takes their art to heart, not just in composition, but in trying new things, pushing the boundaries and widening their base. While "
Future Sauce
" is a brilliant combination of all things
Autograf
, it has a rhythm and style unlike many of their previous tracks. The piano is played with virtuoso dexterity, that for some reason reminds me of Ramin Djawadi's "
Light Of The Seven
" from the
Game Of Thrones
finale. And while you may enjoy that kind of piano, it can perhaps be underwhelming, leaving you wondering where this track is going. Then come the 1:30 mark, the bass and drums really kick in, leading up to the awesome slamming drop with blistering bass of epic proportions. When all of the elements come together for that short stretch,
Autograf
's musical mastery is on full display, as the funk flies from their fingers. After having seen
Autograf
perform
live earlier this year
, I highly recommend checking out their current tour. If the thought of seeing them perform "
Future Sauce
" live isn't enough to get your heart pounding, I'd recommend having a doctor check on that.
Autograf
are playing alongside
Goldroom
at
The Mod Club
in Toronto, Thursday October 13th, tickets and details,
here
.
FOLLOW AUTOGRAF: FACEBOOK SOUNDCLOUD TWITTER