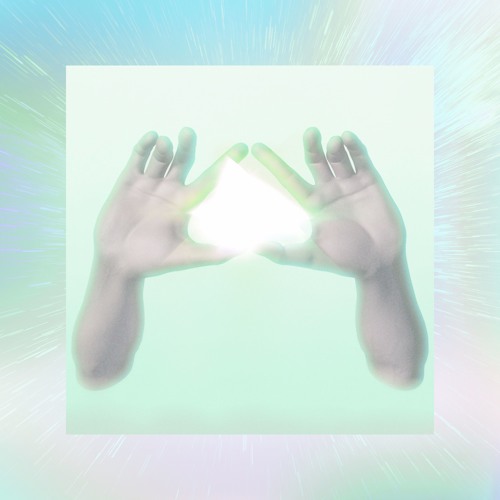 Last night Travis Stewart, aka
Machinedrum
took to the stage at
Velvet Underground
for a special live performance of his album,
Human Energy
. I'll be honest, up until a month ago I wasn't even aware of
Machinedrum
, but when I stumbled across his album I was immediately taken. The bright computer driven sounds, fantastical flourishes and streamlined approach at storytelling is exactly what I look for in an album. The continually playful and progressive style of his effect-driven tracks and their multitude of tempos make
Human Energy
a wild white-knuckled ride. The composition of the album is such that it lends itself to a live performance, allowing fluid movement between tracks.
He began with "
Ocean of Thought
." Waves of emotion washed over the sea of faces, as the incredible over arching progression of the track reached its high water mark, breaking the levy, setting in motion a series of events that could not be stopped. The following track "
Spectrum Sequence
" brought beams of light as the crowd bounced along with the wobbly synth strides. Each climbing chord catches the ear, burrowing into the brain, taking command of our corporeal being, slipping into our souls.
The composition of each euphonic sound and symphonic stride is key to the quality of each track. There's a clear road-map for
Machinedrum
to follow, he just has to fill in the blanks with his finger drumming and machine manipulations. It was interesting to note that he didn't follow
Human Energy
's tracklist, opting to take us on a unique journey. Moving from the more anthemic arches to fast flying tracks and resplendent reprieves, the emotional roller-coaster that is his album and his performance of it, kept the floor of revelers on their toes. "
Morphogene
" is perhaps the best example of this. Nothing stays the same, "the only guarantees come with changes." The movement in each track is simply spellbinding.
It's impossible not to get whisked away by flourishes of "
Isometrix
" or the impressive intensity of "
White Crown
." Then again the stoic strength of "
Colour Communicator
" and its palpable perfection is enough to inspire even the most insipid listener. That's the beauty of
Machinedrum
's live performance and album. Despite relying entirely on computer based, digital sounds which obviously lack humanity and emotion, he is able to inject it chalk full of feeling and (human) energy. The albeit limited lyrical content succeeds in adding an emotional element and story we can sink our teeth into. Whether it's "
Tell U
," "
Do It 4 U
" or "
Celestial Levels
" the theme
Human Energy
stands strong throughout. The final track of the night "
Angel Speak
" had me feeling all kinds of awesome, simply stunned by the potent performance I had just witnessed.
As
I tweeted
last night,
Human Energy
is likely my favourite album of the year,
Machinedrum
's set may also be my favourite of the year, and he definitely deserves some sort of Grammy consideration, both for the album itself and what I believe to be the standout track (among others), "
Colour Communicator
." If you get the chance to check out a
Machinedrum
show, DO IT! And be sure to stream
Human Energy
so you too can feel "
sad, elated, wistful, petrified
" and ready to explode.
FOLLOW MACHINEDRUM: FACEBOOK SOUNDCLOUD TWITTER