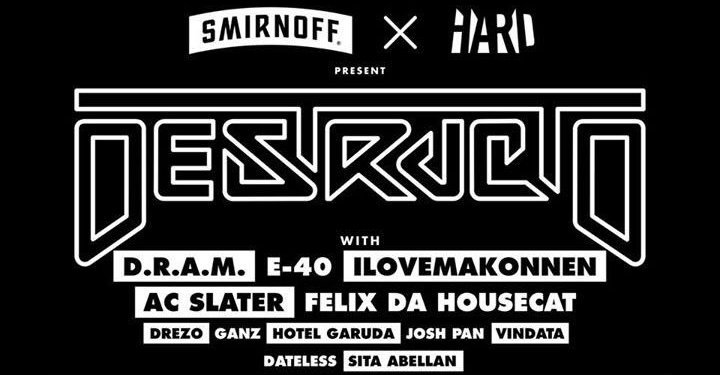 Once again
The Hoxton
played host to one of the wildest nights imaginable, seeing the like of legends,
Felix Da Housecat
and
Destructo
take the decks, with support from
Sita Abellan
and
Cosella
B2B with
Maddmon
, last minute fill-ins for
Josh Pan
who was unable to cross the border without his passport. I truly have no idea how many times I've been to
The Hoxton
. I've seen countless crazy, ratchet and lit shows, but this one was certainly one for the books. I had been lamenting
The Hoxton
's new LED screens and the fact that they take up so much room onstage, which meant a lack of room for VIPs and hype crews. This didn't stop
Destructo
who kept inviting people (mostly and almost exclusively girls) on stage, despite security constantly sending them back down. Being a Halloween themed event, there was not only a lot to see, but it meant that people were really letting lose.
Destructo
led this charge and established this ethos early. Apologies for the audio quality, this was my first night with my new phone and haven't perfected my abilities yet, at least the video is better than it was with the last phone.
Destructo
played to, and with the crowd for nearly two hours, which meant he had an extended playlist that included a number of his own tracks, "
Technology
," "
Dare You 2 Move
," "
Higher
," "
Catching Plays
," and a number of new and exclusive tracks, including a forthcoming track with Snoop Dogg.
Perhaps the best video to illustrate just how crazy the night got is this one where the stage became totally overloaded with fans, leaving security utterly helpless. But as
Destructo
kept saying, as long as you leave the DJ equipment alone, you can do whatever you want.
As
Destructo
himself said when he played
Vindata
and
Wax Motif
's "Crazy," Toronto is "f*cking crazy," and he loves playing here. He prefaced that by saying, while most DJs say that no matter what, and where they are, he truly meant it. We can be confident he spoke the truth since he professed his love for Toronto in a recent
interview with TRC
. I can only hope that we get to see
Destructo
here again soon, and that next time,
Josh Pan
remembers his passport. Pan has vowed to "
make it up to [...] Toronto
."