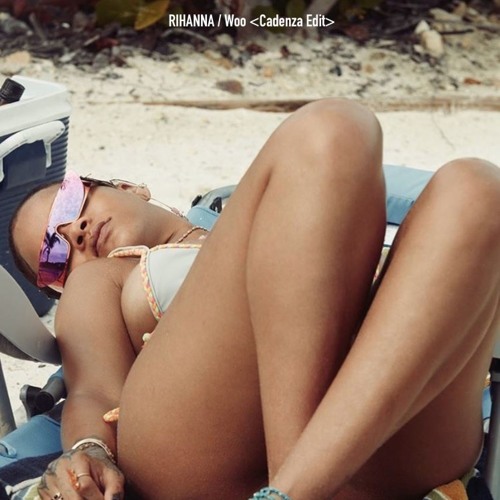 The craft of remixing can be a difficult one. It's important to maintain at least some semblance of the original's integrity, while not regurgitating it entirely. An edit however, is something completely different. Generally it doesn't bring any new elements to the table, merely moving parts around, highlighting others, adding a little more oomph or upping the tempo. Usually it makes a more pop oriented track 'club ready'. While that may seem quite simple, it can be difficult to do well. My favourite example of an excellently done edit is
Bit Funk
's take on Talking Heads "
Girlfriend Is Better
." Other recent examples include
Jacques Greene
's re-rub of Frank Ocean's "
White Ferrari
" and
Kaytranada
's sublime Solange refix, "
Cranes In The Sky
." Others bring something else to the table like
Grinless
' combination of
R. Kelly
's "Flirt" and
Mija
&
Vindata
's "
Better
"
the result
of which is one of my favourite mashups of all time.
All that being said,
Cadenza
's edit of
Rihanna
's track "
Woo
" is another prime example of an excellent edit. Doing everything I detailed above, it is still quite clearly
Rihanna
's track, reorganized and reinvigorated by
Cadenza
. What makes it so good and delightfully distinct from the original is its additional propellant percussion, bigger, more dominant bass and almost smoky distortion of
Rihanna
's now trademark mumbling lyrics. There's a great allure to
Cadenza
's version of "
Woo
" taking it from a track I'd never play on purpose, to a track I'd throw on to impress my friends. You too can cop
Cadenza
's edit, entirely
free
, and show off your terrific taste in music.
FOLLOW CADENZA: FACEBOOK SOUNDCLOUD TWITTER