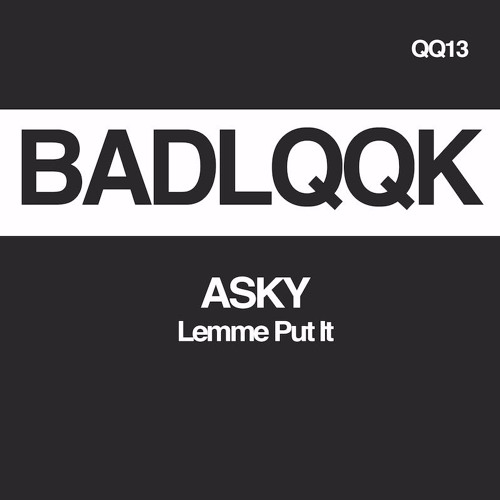 Frequent followers of this blog will be aware of the love I have for
RYME
and their label
BADLQQK
, so it should come as no surprise that I jumped at the opportunity to premiere their latest release. Out exclusively on Beatport November 8th, and everywhere else November 22nd, it's with great pleasure I present to you,
ASKY
and his jacking, ghetto house track "
Lemme Put It
." As with most
BADLQQK
records, you'll want to have a sub-woofer handy to maximize your experience, as
ASKY
has crafted a true club killer, one that you'll feel in your core, or more (in)appropriately, where he wants you to put it. With rolling drums that summon your soul to the dancefloor, the allure of
ASKY
's sound design and composition is unmistakable. The precise percussion, pops off, propelling your feet to fly across the floor at an impossible rate. Once the bleepy, shrill synths find their way into your ears,
ASKY
is well on his way to overtaking your senses. Each sound and layer is combined and manipulated with the utmost integrity, giving listeners calm, allowing
ASKY
to put 'it' wherever he desires. Whether this track was made with malicious or clandestine intent, it no doubt allows
ASKY
to manipulate listeners like putty in his clearly capable hands.
"
Lemme Put It
" follows a slew of bold releases from
BADLQQK
, including
Don Rimini
's debut album
All In
, Jack N Jerk's "
Funk In Brooklyn
" and
Dinamix
's "
My House
." They have truly become a worldwide leader in the house scene, dropping diverse and forward thinking releases with regularity. With more than a dozen artists on their roster, the sky is the limit for the barely year old collective. Stay tuned to see what
BADLQQK
has up their sleeve and where you'll be able to see their globetrotting crew next.
FOLLOW ASKY: FACEBOOK SOUNDCLOUD TWITTER
FOLLOW BADLQQK: FACEBOOK SOUNDCLOUD TWITTER