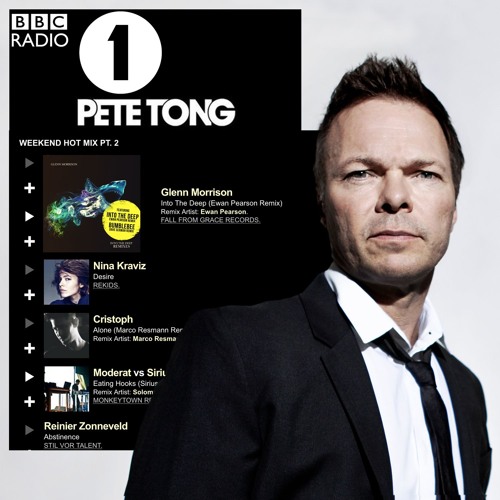 For most DJs there is no higher honour than to have
Pete Tong
include their track in his Weekend Hot Mix. This past Friday, Toronto's own
Glenn Morrison
received that distinction when
Ewan Pearson
's remix of his track "
Into The Deep
" played across the hallowed
BBC Radio One
airwaves. Many a time, I've found myself ripping tracks right from the radio to include Pete's inimitable voice, that adds so much depth and intensity to the track. His delivery is simply legendary, and is a testament to his 20+ years as a staple on perhaps the greatest radio station our world has to offer. The fame of Pete may yet be rivaled by the two contributors to this track, as both Morrison and Pearson are legends in their own rights. This trifecta of techno gods combine to make an already hot mix, pure fire.
Ewan Pearson
's contribution to "
Into The Deep
" is pure perfection, sending Morrison's original further underground for an unreal, old school, never ending dance-off. The movement is a thing of beauty. It starts off with the atmosphere of a desolate wasteland, with ominous echoes in the distance. Pearson then transmutes those echoes into the melody, reverberating with more intensity. About halfway through, the vibes become less ominous and more uplifting, as the technologically created horn blips penetrate the atmosphere. This is where the track really excels, it becomes free, expansive, playful and utterly enjoyable. It is vibes like this, that always make me imagine the glory days of everyone in a club doing both, their own thing, but also moving in some strange unison. Like
my post
from two weeks ago about
Bicep
, it is the epic length and progression of this production that I cannot help but fall for.
Unbelievably, this track is available for
free download
(without Pete's voiceover), via hypeddit.
FOLLOW GLENN MORRISON: FACEBOOK SOUNDCLOUD TWITTER
FOLLOW EWAN PEARSON: FACEBOOK SOUNDCLOUD TWITTER