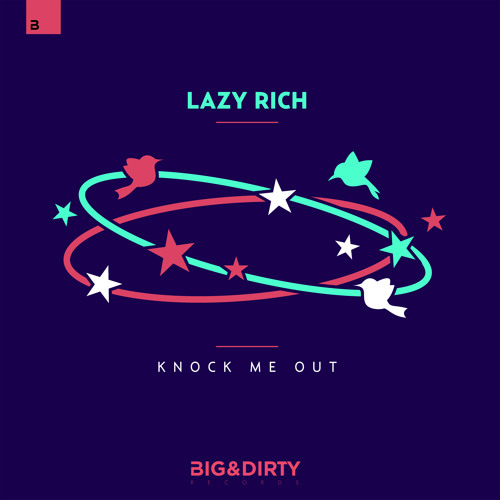 For years now,
Lazy Rich
has been one of my favourite producers, releasing some of my most reliable, go-to, fire-me-up productions. Recently those tracks were "
Opus
," his collabs with
Mord Fustang
and
Felguk
"
We Are
" and "
Dance To The Beat
" respectively. He's also a master remixer, taking on the likes of
Porter Robinson
's "
Vandalism
" and
Fatboy Slim
's "
Weapon Of Choice
." But his most recent production first caught my attention when he tweeted "
Never thought I'd release a trap track. I think it's trap anyway... is it?
" Technically I don't think it is, but it certainly seems to be a variation from the blistering electro house that we usually get from the head of
Big Fish Recordings
. Rich has been experimenting as of late, departing from the 128 BPM range, most notably with the 114 anthemic stomper, "
Give Me Crazy
." Now "
Knock Me Out
," the supposed trap track, which sits at a paltry 104, yet again sees
Lazy Rich
getting bored with the monotony of 128 bangers. However it still fits well into the
Lazy Rich
library, delivering the delightful get down that we've come to expect from him.
From the foundation of the piano he lays down in the introduction to the super sexy, and ultra alluring, synthesized saxophone, the track is constructed with the kind of mastery only a seasoned veteran could muster. Like the label it is released on, it truly is
Big & Dirty
, and although the lyrics say the "lips are paralyzed, before I even got your name" I rather think it's our ears that are paralyzed, in utter disbelief at the sheer magnitude of Rich's production. He truly knocked this one out of the park; regardless of what genre you want to call it, this is a big time production full of fun and frivolity.
I really regret not getting it in last night's extended episode of
Bump In The Hump
, but will remedy that by including it in my upcoming posts on this blog, as I go through my favourite tracks from this year of
Bump In The Hump
, and put a cap on the year of music that was 2016.
FOLLOW LAZY RICH: FACEBOOK SOUNDCLOUD TWITTER