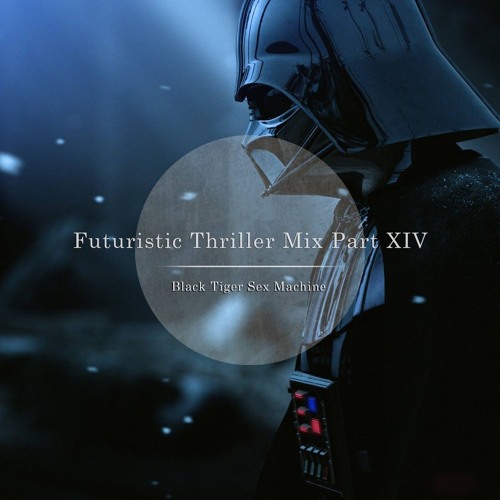 In case you've been under a rock for the past two plus years (and even then I wouldn't be surprised if Lucasfilm some how marketed to people under rocks), they're making new Star Wars films again. There's just about nothing left that hasn't been used to market/promote these new films. From completely unrelated products like batteries or razors, to sports shows and more, Star Wars has infected the consciousness of seemingly the whole world through militaristic marketing strategies. And listen, I get it, Star Wars was and has been a massive part of people's childhoods and brings back some major nostalgia,
member?
And who doesn't love the endorphins from a good memory?
So whether paid promotion or loving, free promotion like
Black Tiger Sex Machine
has just done with their "
Futuristic Thriller Mix Part XIV
," we're, for good or bad, stuck with Star Wars on the brain. I was a fan, and certainly did enjoy the original three parts when I was young, then parts of the three prequels when I was a little bit older, but I've yet to see
The Force Awakens
and am not planning to see
Rogue One
. It's just not for me, but this mix, most certainly is.
Black Tiger Sex Machine
have delivered a delightfully dark and forceful 44 minute mix, filled with Star Wars soundbites and big time bass tunes.
The captains of
Kannibalen
, show off their impressive mixing skills and massive library of unreleased productions, including multiple tracks from their forthcoming
All I Want For Christmas Is Bass
compilation:
Karluv Klub
's "Love Addicted,"
YOOKiE
's "
Subs
," and
Fed-Up
's "Up D Ladda." There's also tracks from
Axel Boy
"
Bun Up N Tun Up
,"
Tommy Trash
&
Kittens
"
Nasty
,"
Bare
&
Riot Ten
"
Knockout
,"
TWOLOUD
's edit of "
Front2Back
," as well as their own, "
Armada
" and "
Face Down
." However, my favourite bit comes when they use Luke's conversation with Obi-Wan as a riser leading into the drop of
Deadmau5
's "
Imaginary Friends
." You could say it's perfect because Luke's actually speaking with the ghost/spectral form of his dead friend, Obi-Wan.
In the final 10 minutes or so they go full steam ahead with a number of fire unreleased tunes, capping the mix with what we can only hope are tracks set to be released in the near future. I'm not sure there are any DJs more fitting for a Star Wars themed mix, as
Black Tiger Sex Machine
's sounds are full of lasers and space-aged effects, imitating explosions and warp speed propulsion. Despite sounding like the dark side this trio are truly rebels, as powerful as the likes of Luke, Leia and Han. But I suppose since their all male, you could sub out Leia for Chewy. Anyway, If you want to enjoy this mix again, they've made it available for free download via hive,
here
.
FOLLOW BLACK TIGER SEX MACHINE: FACEBOOK SOUNDCLOUD TWITTER