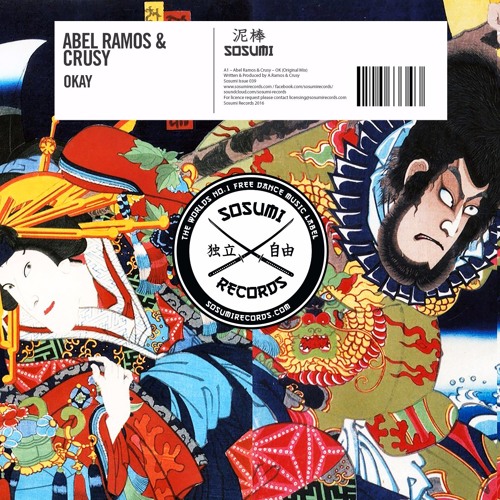 Friday marked the free release of the wobbling depths of the drumline driven, electro-house collab, "
Okay
," from Spanish producers
Abel Ramos
and
Crusy
, exclusively on
Kryder
's
Sosumi Records
. Filtered synths seem to rise from unfathomable depths popping off in a violent stomping fashion, envisioning a kind of cartoon-ish dance of rival gods attempting one up each other with brain busting dance moves. The unholy chorus of "
Okay
" echoes in ominous intensity, rife with the anticipation of the inevitable explosion of grooving bass. Almost uttering 'sock it to me,' the rough yet lose flowing vocal sounds further the image of "
Okay
" as a full on fracas; fists flying, bashing, battering, and blasting in rhythm. Great for the gym or smack dab in the middle of a set,
Abel Ramos
and
Crusy
have unleashed an unyielding monstrosity; available now, free in
full lossless WAV
.
SUPPORT ABEL RAMOS: FACEBOOK SOUNDCLOUD TWITTER
SUPPORT CRUSY: FACEBOOK SOUNDCLOUD TWITTER